Call for applications: EUGLOH-RIA Research seeding grant (projects and/or platforms)
Deadline: JUNE 20, 2023
EUGLOH-RIA focuses on enhancing European-level and cross-sectoral collaboration in research and innovation. Within this project, research units and infrastructures relevant for pandemics-related research have been identified within the Alliance. The present EUGLOH-RIA call for applications is now being launched with the aim of fostering scientific collaboration and creating synergies within the field of pandemics-related research.
EUGLOH-RIA offers seeding grants for carrying out research projects within the Alliance:
associating two research teams (from two different partner universities), and/or
associating one research team and a research platform (be it hosted by a research unit or not, but belonging to another partner university than the research team)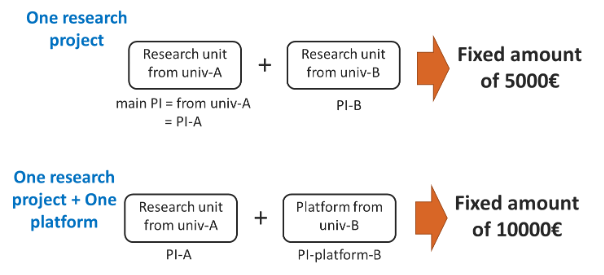 The grant contributes up to 5.000€ or 10.000€ depending on the configuration, to cover costs for travel, accommodation, consumables, sample shipping, possible running costs of a platform.
Timeline
20/06/2023 - Application deadline
15/10/2023 - Description of the milestone of the project sent to the university contact point (1 page max).
15/10/2023 - Deadline for reporting to the university contact point on the use of the funds
25/10/2023 - Short presentation (in person or online) of individual experience with the pilot projects during the EUGLOH-RIA Conference on Transnational Perspectives in sharing Infrastructures in Global Health
Contact
Please get in touch with your local EUGLOH-RIA contact point to receive further information regarding the application process for these funds at your home university:
University of Paris Saclay: euglohria.upsaclay@universite-paris-saclay.fr
Lund University: euglohria@med.lu.se
University of Szeged: euglohria@szte.hu
University of Porto: euglohria@up.pt
Ludwig-Maximilians-Universität München: euglohria@lmu.de